WE NOW HAVE SOY CANDLES, PET PRODUCTS & MEN'S PRODUCTS!
Hey there, we're the Bubble-Up Girlz! A mother-daughter *mixologist* team, that loves to create great smelling products that pamper. Our products are 100% Handmade, in small batches by us. We pride ourselves in making great quality products & using local natural ingredients. Our recipes were created with sensitive skin in mind, because we have sensitive skin. In fact, our secret norwegian recipes have been passed down through the generations, just like our famous lefse recipe!
Of course we have all the regular scents, but we make tons of fun & different ones too! We make every order fresh, so if for some reason your favorite scent isn't on the list, we can make it, so just ask. We create stuff that we like, so you know it has to be good! Best of all, we have a great time making it. We hope you enjoy our products as much as we do!
We offer a variety of different products such as Lotion, Body Frosting, Lotion Sticks, Soy Candles, Three in One Wash, Body Balm, Goat's Milk Soap Bars, Bath Salts, Body Polish, Milk Bath, Misters, Soap Petals, Lip Jelly, Men's Products, & Pet Products. Now the whole family is covered in natural stuff! Take a look around our site, feel free to email us with any questions & most important have fun!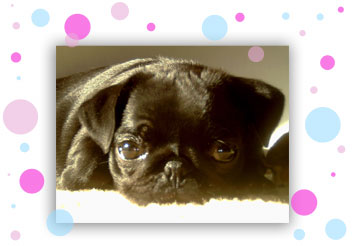 "Our Spokesmodel, Lolita the Pug!"
• 100% Soy Candles & Tartlets are here!!
• Bubble-Up Pet Stuff
• Bubble-Up Guy Stuff
• Gift Certificates